Social Events
Wednesday, July 7, 2010, 18:00
Welcome drink at C6 atrium (FCUL)

Thursday, July 8, 2010, 18:30
Lisbon walk and cocktail at Castelo de São Jorge (St. George's Castle) GoLisbon link

Friday, July 9, 2010, 18:30, leaving from FCUL
Conference dinner, preceeded by a small tour to Belém (Belem) GoLisbon link passing by Torre de Belém (Belem Tower) GoLisbon link

Saturday, July 10, 2010 Afternoon
Half-day tour to Sintra, Cape Roca, Cascais, Estoril
Departure to Sintra, a small delightful town in the forest covered Mountain of Sintra, immortalized as "Glorious Eden" by the World famous poet Lord Byron.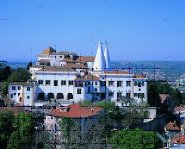 Located about 30 kilometers northwest of Lisbon, there will be a visit to the Royal Palace of Sintra, a fabulous royal residence of many Portuguese Kings, with wings and halls dating from the 13/14th Centuries. Sintra is excellent for shopping souvenirs and handicraft, and there will be time at leisure.
Descending the mountain on to Cape Roca, the Western-most point of continental Europe, a stop will be made by the cliffs over the Atlantic Ocean. Then following the coastline the tour will pass by Guincho Beach, Boca do Inferno (Hell's Mouth) an ocean carved spectacle in rock.
Arriving at the old fishermen village of Cascais that in the 1940's was chosen as residence by exiled European Royalty, a stop will be made by the lovely bay filled with fishing boats.
Return to Lisbon passing by Estoril.
19:30 The third place match of the 2010 FIFA World Cup at a coffee terrace in Parque das Nações-Expo/Lisbon.